Erin Hatzikostas is available to present as the opening or closing, Leadership & Authenticity keynote speaker at your next Portland, Oregon conference.
Mrs Hatzikostas is a leading leadership and Authenticity speaker that delivers keynotes many times per year. Erin is available to speak at your next Portland, Oregon conference. Erin has been speaking professionally for over 5 years. Her keynote topics include motivation, leadership and Authenticity.
By working with Erin, you are guaranteed a seasoned speaking professional that will make your event a success. Erin brings energy and positivity to each of her presentations.
Erin has presented keynote presentations around the globe to some of the largest organizations in the world. Learn more about why Erin Hatzikostas is the right motivational keynote speaker for your next Portland, Oregon conference.
Erin Hatzikostas is a recognized expert in Authenticity after years of being the head of a multi billion dollar company (CVS). A highly sought-after keynote speaker, transformational leader, she guides individuals and businesses to capitalize on empathy and magnify their impact.
Her unique expertise is in combining practical business tactics with accelerated learning strategies to embrace change, encourage innovation and increase change for people and organizations worldwide. Erin Hatzikostas inspires, empowers and guides people to achieve massive and lasting personal and professional growth, whether it be as a keynote speaker, facilitating corporate workshops or mentoring individual.
A leading international keynote speaker, Erin has reached tens of thousands worldwide with her message of Authenticity as the competitive edge in the face of today's complex markets. Erin is a sought-after business culture catalyst who inspires, empowers and guides organizations and individuals to create sustainable, high-performance strategies. Erin through her keynotes, helps leaders embrace AUTHENTICITY, cultivate work cultures of greater unity and resilience, as well as strengthen their voice as purpose driven leaders.
---
Reasons Why You Should Visit Portland, Oregon
Since well before the media caught on, Portland has been staking its claim as America's destination for weirdness. A visit to this city in Oregon both fulfills expectations and reveals hidden gems, all worthy of a return trip. If you're in need of excuses to visit, here are some of the best.
Whether you're the outdoorsy type or not, a visit to Portland is best accompanied by a sample of the Pacific Northwest's natural beauty. From the southeast's scenic Mount Tabor to the down-and-dirty rigor of the northwest's Forest Park, there are countless ways to hit the trails and experience urban nature unlike anywhere else.
The restaurants are among the West Coast's best
Despite the smaller population, the eyes of the foodie world rarely overlook Portland as one of the West Coast's most popular restaurant hubs. Portland's specialty isn't exclusively fine dining, classic joints or total dives, but a comfortable mixture of the three, giving visitors a range of beloved establishments to choose from. Prime yourself with this list of Portland's best restaurants.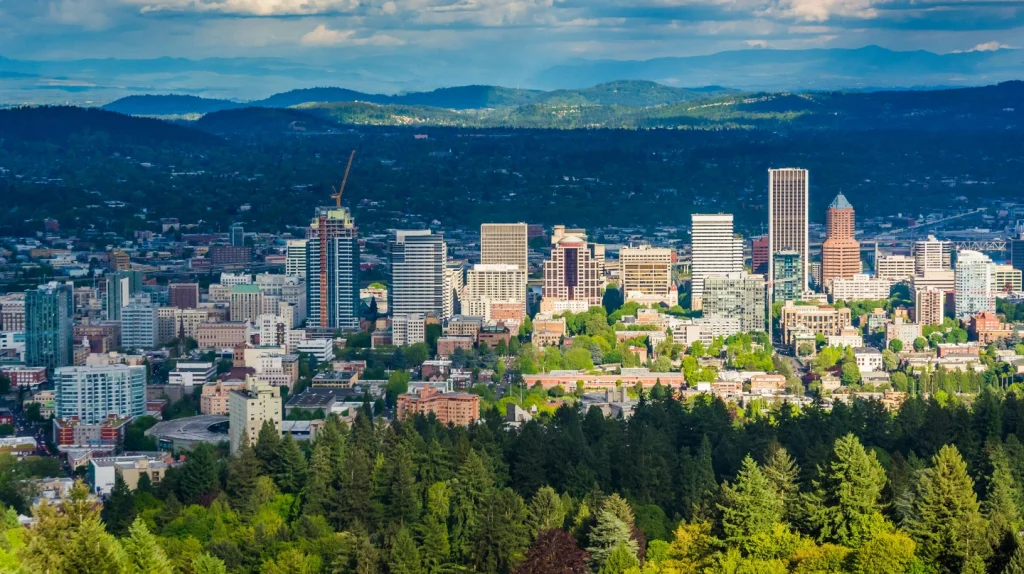 Experience the rain (and its payoff)
Not many places will claim inclement weather enhances a city, but Portland isn't like many other places. Portlanders pride themselves on thriving in the rain, and visitors should expect to pack a raincoat if they want to get a sense of the city at its most honest. If a daytime drizzle interrupts plans, let restaurants, cozy cafés and other indoor delights act as a backup. For visitors who can't bear the rain as much as locals, the summer months have significantly fewer rainy days, and the city blooms from the season-long watering of winter and spring.
It reigns as the most bike-friendly city in the US
Proving you don't have to be an older city like Amsterdam to make cycling accessible, Portland punches above its weight to support a devoted bike culture. Don't stress about bringing your bike; Oregon-based athletic brand Nike sponsors the inexpensive bike-share program Biketown, available on bike racks across the city.
Doughnuts are an elevated art form
Portland's unquestioned love for the doughnut influences any visitor no matter how long they stay, and with good reason. Whether you go to the popular Voodoo Doughnuts downtown or scale it up at Blue Star Doughnuts, your first bite is sure to be a memorable experience. Essential reading to get to the heart (or should we say, hole) of Portland's doughnut craze is this list of Portland's best doughnut shops.
It's home to the world's largest indie bookstore
While it's certainly a bookworm's dream, Powell's is much more than a simple bookstore; the shop occupies an entire city block and 1.6 acres of retail space in downtown Portland, ruling as one of the top reasons to visit the city. Browsing the shelves can be an all-day activity, so don't be surprised when your suitcase is suddenly too small for your new souvenirs.
Witness the 'Rose City' live up to its nickname
Portland was set on its course to become the 'City of Roses' more than 100 years ago, as beautification efforts led to an all-out infatuation with the bloom. Today, more than 10,000 individual roses rest in the International Rose Test Garden, the city's top spot for a flowery walk near the top of Portland's Northwest Hills. Visitors should plan to see the multitude of bushes and garden varietals scattered about the city as most hit their peak in June, aligning nicely with the annual Portland Rose Festival.
The airport (yes, really)
Once you've been through it for yourself, it's not hard to see why it's so beloved (and possibly even worth a layover). It has received domestic acclaim for its comfort, design, environmental efforts and food – and the carpet has a cult of personality. It also features a rotating crew of musicians stationed at concourses throughout the complex, playing day and night to greet and bid farewell with a tune
---